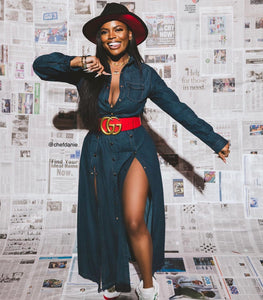 The" Iridescent Nailz"
Press on Nail Experience
Welcome to a luxury Press on nails experience unlike any other. Our nails are exclusively handcrafted by an award winning, experienced & well trusted Press on nail artist. Each of our glamourous sets take hours to create, and are crafted with the utmost precision and care.
The luxurious experience our brand provides is unparalleled. Specializing in Luxury is our forte! (Photo/Model credit: @chefdanie)
The perfect Accessory
Our press on nail sets perfectly compliment makeup looks, photoshoots and product shots! Take a look at how some of our favorite beauty influencers styled their sets!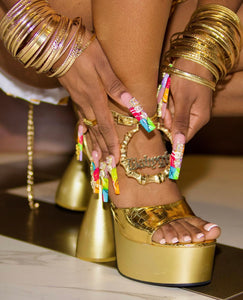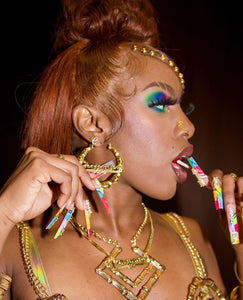 Never settle for less
Our press on nails are strong and made to last. Only the highest quality materials and brands are used to create our sets. Quality is our promise, and luxury is always our guarantee ( Photo/Model credit: @cheybe_tha1)
clientele reviews
It's been a year since I started...

It's been a year since I started wearing @iridescentlynailed luxury press on nails. I love the fact that I no longer spend hours in a salon & I can change my nails anytime & not feel like I'm wasting my coins.

— 

Tracy
Thank you for bringing my sexy back...

First and foremost I need you to know that your customer service is impeccable! Hello, it's me again and I felt it necessary for you to know how amazing I  feel when I wear my nails. I'm so single mother and I don't do much for myself at all but I'm trying to change that. Wearing your lavish nails has also prompted me to get my hair done as well because of course you need the hair to match your nails! I feel absolutely gorgeous when I have on a set of your luxury press-ons. I normally throw on leggings and a hoodie but I catch so much attention when I'm wearing them I have to be fully dressed  and cute AF when I step out! I got hair done and purchased outfits for me to step in, when normally my extra funds go on my kids. Just know that you have helped me to feel beautiful and helped with my post-partum depression. I feel so attractive when I wear your sets. Thank you for accepting Shop Pay as well because without it I'd only be able to purchase once in a blue moon lol. I just wanted you to know what you did for me and I'm sure several other customers as well. Nails are my guilty pleasure and thank you for helping to bring my sexy back slowly but surely.

— 

Rosa
The quality is like no other brand..

I've been buying sets from your site since almost 2 now and the quality just keeps increasing. The creativity is like no other brand, the quality of the gel polish and crystals are amazing. You can definitely tell a iridescent set from the rest. All of it is worth the price. 

— 

Asya
super strong and gorgeous

These nails were BOMB. Super strong and gorgeous. I've decided to save them for special occasions because they are just so pretty! Will be ordering more! Love you and your nails!!

— 

Fallon P
I love your nails

I love your nails and will continue with more purchases!

— 

Nicky
I'm now so in love with her nails...

I just came across Iridescentlynailed just browsing for press on nails. Lucky when I came across this page a drop was about to happen soon. So I continued to follow them and wait. The drop finally came and I made a purchase. Shipping description is accurate.👍🏽 Then I received an email from Shontel thanking me for my purchase also saying if I had any questions to not hesitate to ask. A week later I messaged her asking if she could add more bling, and she was more than happy to accommodate my request. I'm now so I'm love with her nails. Also made my second purchase and can't wait to receive them. She can have my business anytime. 👏🏾👏🏾😍😍💅❤️‍🔥❤️‍🔥❤️‍🔥❤️‍🔥

— 

Taniesha
You made the whole experience worth every penny

Omg! These are beyond gorgeous. Also thank you for being soooo helpful in the whole process and patient with me as this was my first time buying press ons! You made the whole experience worth every penny! These

— 

Ellie